Norway police end Utoeya island search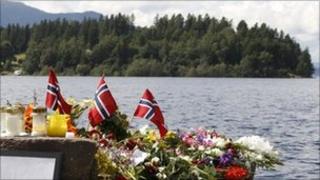 Police in Norway have called off the search for further victims of a killing spree on Utoeya island, but are still searching the water around it.
Anders Behring Breivik was arrested by police on the island and has admitted to shooting 68 people there and killing eight in a bombing in Oslo.
Police say they will interview him for a second time on Friday after getting new information on last week's rampage.
They have released the names of another 24 people killed.
All but one of the names were of people killed at a governing Labour party youth camp on Utoeya island, about 40km (25 miles) from Oslo.
Most were teenagers, the youngest of them being 14-year-old Johannes Buoe.
Seventeen names were released by police on previous days.
Two foreigners, one Georgian and one Danish citizen, are now known to have died.
The bomb in Oslo exploded in the capital's centre, smashing government offices.
Mr Breivik has claimed he acted to stem what he called the Islamisation of western Europe, blaming the government for allowing it to happen.
'Total evil'
The police announced that they had finished combing the island, although forensic scientists were still at work there and the surrounding lake was still being searched for the missing.
But the BBC's Jon Brain in Oslo says that the police have admitted for the first time that they don't know how many people are still missing.
Mr Breivik has been remanded in custody for eight weeks, the first four of which are to be in complete isolation apart from visits by his lawyers and investigators.
Police are to question him for a second time on Friday and focus on whether there is "any more danger", said police attorney Paal-Fredrik Hjort Kraby.
He is also expected to undergo an examination of his mental state.
On the same day, a memorial event will be held in Oslo city centre to mark a week since the attacks happened.
After Mr Breivik's custody hearing on Monday - which was closed to the media and the public - the presiding judge said Mr Breivik claimed there were two other cells working with him.
Mr Kraby said Mr Breivik would be questioned on "the information received over the last few days - which is a lot".
His next court hearing would be closed as well, "just in case he's able to send messages by code" to associates, said Mr Kraby.
Despite the fears, Norwegian authorities have said they believe Mr Breivik acted alone.
Norwegian domestic intelligence chief Janne Kristiansen said no evidence had so far been found linking Anders Behring Breivik with far-right extremists in Norway or elsewhere.
Speaking to Associated Press news agency, she called the 32-year-old Mr Breivik "total evil".
2012 trial
Police are examining video surveillance they say shows Mr Breivik in Oslo's government quarter minutes before the car bomb went off on the afternoon of 22 July, Aftenposten reports.
Police sources told Aftenposten it would take weeks to review the video evidence.
Mr Breivik has admitted carrying out the attacks but denies the terrorism charges he faces.
He may also be charged with crimes against humanity.
Norway's chief prosecutor has said he expects the indictment will not be ready before the end of the year.
Tor Aksel Busch said he hoped the trial could be held next year.
Meanwhile, an EU official has admitted that fertiliser purchases similar to those made by Mr Breivik before building his bomb may be no more likely to trigger a security alert in the EU than they did in Norway.
Tim Jones, an EU counter-terrorism official, said new EU rules were being drafted to restrict the sales of chemicals such as ammonium nitrate and hydrogen peroxide, which can be used to make bombs.
But the new legislation was proving difficult because these so-called pre-cursor chemicals also had legitimate uses, Mr Jones said.
He was speaking at an extraordinary meeting of counter-terrorism experts in Brussels to examine whether any lessons could be learned from the attacks in Norway.
Meanwhile, police in Finland said they had arrested an 18-year-old man in possession of chemicals that could be used to make bombs.
His home was raided after the discovery of 10kg of ammonium nitrate fertiliser from Poland addressed to him.
No link to Mr Breivik, who purchased chemicals from Poland that can be used in bomb-making, is suspected, Finnish police said.