Norway attacks: Oslo flower memorial cleared away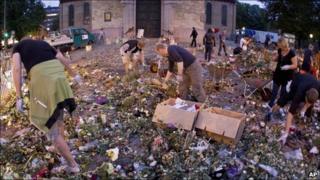 Oslo has cleared away a vast memorial of flowers and other items left outside the city's cathedral in honour of the victims of the attacks on 22 July.
The flowers will be composted and the candles recycled, while archivists will collect any cards and other mementos.
The killing of eight people in a bombing in Oslo and the shooting dead of 69 people at a youth camp on the island of Utoeya shocked the nation.
Far-right extremist Anders Behring Breivik has confessed to the attacks.
The flowers began appearing the day after the killings and grew to carpet an area about 50m (164ft) by 30m (98ft) in front of the capital's cathedral.
'People's voice'
A spokesman for Oslo's city government said the cards left at the memorial would go to the national archives to remember what ordinary people had said in the outpouring of grief.
"One of the people in the archives said that for a long time now we have heard what the prime minister said about this, what the king has said about it, what the politicians have said about this catastrophe that hit us," said spokesman Erik Hansen.
"Now they wanted to see what the people, what kids, what adults had said on the signs, the postcards they have made here. So now they are collecting that now to have the people's voice," he added.
Police are looking at whether Mr Breivik acted alone and if he had contact with other cells of right-wing extremists in Western Europe opposed to the immigration of Muslims.
Mr Breivik blames the governing Labour Party for increased immigration in Norway. Its youth wing was on Utoeya island for a summer camp when the attack took place, while the Oslo car bomb was set off near government buildings.
Norwegian police have cast doubt on Mr Breivik's claims that he was part of a broader network but say they will look into them.
A special police unit has been set up to investigate the attacks.
Meanwhile, a court has appointed two psychiatrists to try to examine Mr Breivik's actions, with a mandate to report back by 1 November.
Mr Breivik has been charged under the criminal law for acts of terrorism. The charges include the destabilisation of vital functions of society, including government, and causing serious fear in the population.
At a court appearance on 25 July, Mr Breivik admitted carrying out the attacks but did not plead guilty to the charges. He was remanded in custody for eight weeks, with the first four to be in solitary confinement.