German child killer Magnus Gaefgen awarded damages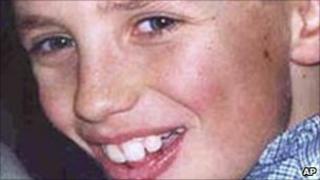 A German court has awarded more than 3,000 euros ($4,265) in damages to a child murderer.
Police threatened Magnus Gaefgen with "unimaginable pain" if he did not reveal his victim's whereabouts.
The court in the state of Hesse decided Gaefgen's "human dignity" was violated during questioning on the disappearance of a banker's 11-year-old son.
When Gaefgen was held in 2002, police thought the boy was still alive because his father had paid a 1m-euro ransom.
But the abductor was refusing to disclose the boy's whereabouts. The two questioning officers threatened the arrested man with "unimaginable pain" to try to persuade him to disclose more.
He was later convicted of murdering the boy whom he had bound and gagged to the point of suffocation.
But the killer filed a claim saying that he too had been subjected to inhumane treatment in the interrogation.
A spokesman for the police union said that the ruling was "emotionally very difficult to endure".
He said that torture was not endorsed but "family members, as well as all citizens, have a right to expect that the police will try to question an alleged murderer to such an extent that the potential victim can at least be found quickly, if not rescued".