Emergency talks held to calm global markets turmoil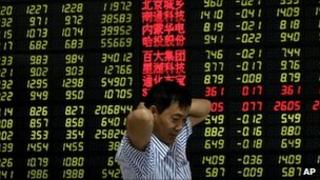 The European Central Bank has held emergency talks on whether to buy Italian debt to contain spreading financial market turmoil, sources say.
The BBC's Business Editor Robert Peston says the ECB is split on the move.
Growing worries over debt in the eurozone and the US caused sharp falls on world stock markets last week.
France and Germany have meanwhile said they welcome steps taken by Spain and Italy to boost competitiveness and cut their budget deficit.
"In particular, they stress the importance that parliamentary approval will be obtained swiftly by the end of September in their two countries," said the statement from French President Nicolas Sarkozy and German Chancellor Angela Merkel.
The two leaders also reiterated their commitment to introducing measures to protect the euro which were agreed at a summit in July.
Finance ministers from the G7 major economic powers were expected to hold talks on Sunday night on how to calm the markets, before they reopen on Monday, reports said.
Further falls
The governing council of the ECB, which includes the central bank governors of all 17 eurozone countries, held a telephone conference on Sunday, an unnamed eurozone bank official told Bloomberg news service.
According to an ECB source cited by Reuters news agency, the bank's president Jean-Claude Trichet wants a final decision on whether to buy Italian debt to be made at the meeting.
Meanwhile, Middle East markets, which are open for trading on Sunday, lost ground, with Israel's main exchange dropping by about 7% and Egypt's by about 4%.
There are fears that unless leaders can announce a decisive plan of action before Asian and European markets open on Monday, global shares could plunge even further.
Monday will also be the first day major markets are open following the decision by credit rating agency Standard & Poor's to downgrade US government debt.
According to Reuters, S&P managing director John Chambers said on Sunday there was a one in three chance of a further downgrade in the next six months to two years.
Low growth
Italy is the latest and biggest economy to be hit by the eurozone crisis.
The price Italy pays on its government bonds has shot up amid growing doubts it can keep its debt level so high while economic growth is so slow.
Spain, too, has been caught up in the crisis - hammered by high unemployment, high government debt and anaemic growth.
The high levels of debt coupled with low growth and an uncertain response among eurozone leaders to the crisis has sparked fears that both countries could become engulfed in the same cycle which has led to Greece, the Irish Republic and Portugal already being bailed out.
Last week, European Commission President Jose Manuel Barroso said authorities in the eurozone were failing to prevent the sovereign debt crisis from spreading.
Both Italy and Spain insist they can service their debt.
On Friday, Italian Prime Minister Silvio Berlusconi said he was bringing forward austerity measures and would balance the government budget by 2013, one year ahead of schedule.
Last week, the gap between German bonds - seen as the safest in Europe - and Spanish and Italian debt reached a record high since the euro was introduced in 1999.
There have been rumours that the ECB was preparing to buy Spanish and Italian bonds to try to help those countries. Last week the ECB bought Irish and Portuguese bonds but did not include Spanish and Italian debt in its purchases.
Some analysts argue that investors expected the bank to buy Italian and Spanish debt soon after the eurozone leaders summit on 21 July, and the fact that it has not has undermined confidence in the markets.
Not impressed
The G7 emergency talks reported to be happening on Sunday were expected to focus on crafting a global response on the eurozone debt crisis and at easing fears, after rating agency Standard & Poor's downgraded America's top-notch AAA credit rating to AA+.
S&P, one of the world's three major rating agencies, failed to be impressed by a last-minute deal in the US last week to raise the US debt limit by up to $2.4tn (£1.5tn) from $14.3tn.
It staved off a potential US government default on its debt but was only achieved after months of wrangling between Democrats and Republicans in Congress.
The credit rating downgrade is seen as a major embarrassment for President Obama's administration. It could also raise the cost of US government borrowing.
An economic adviser to the White House condemned the S&P move.
"It smacked of an institution starting with a conclusion and shaping any argument to fit," said Gene Sperling, the head of President Obama's National Economic Council.
White House spokesman Jay Carney said on Saturday that last week's debt deal had been "an important step in the right direction", but that "the path to getting there took too long and was at times too divisive".
He said the US must now "do better".