Colosseum bomb alert: Rome tourist site evacuated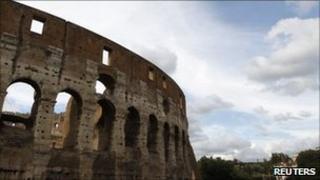 A suspect package has been found and neutralised at Rome's Colosseum tourist attraction, Italian police say.
The box, wrapped in tape with protruding wires, did not contain any explosives, they say.
Tourists were earlier evacuated from the site after an anonymous threat was made by telephone.
The Colosseum, the largest amphitheatre built by the Romans, is one of Italy's most famous sites and visited by many thousands of tourists each year.