Spain's Duchess of Alba 'gives up fortune to marry'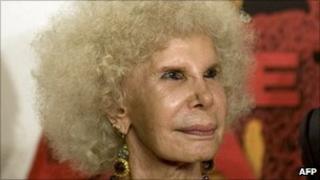 One of Spain's richest women, the Duchess of Alba, is reportedly giving away her personal fortune in order to marry a civil servant.
The 85-year-old's personal wealth is estimated to be between 600m and 3.5bn euros (£524m and £3bn).
The duchess's six children have until now opposed her plans to wed Alfonso Diez, who is 24 years her junior.
Local media reports say she plans to get round her children by giving them their inheritance early.
''Alfonso doesn't want anything. All he wants is me,'' the duchess was quoted as saying earlier this year.
Mr Diez is a civil servant in the department of social security and also runs a PR business. The pair have been close friends for several years.
Rumours of a wedding were quashed in 2008, when a statement by the House of Alba said that the relationship ''was based on a long friendship and there are no plans to marry''.
According to the Spanish newspaper El Pais, her eldest son Carlos will inherit the Liria Palace in Madrid and the Monterrey Palace in Salamanca.
Her other palaces and thousands of hectares of land will be divided between her children and eight grandchildren, the report said.
Much of the patrimony is managed by a foundation and cannot be sold.