Montenegro to bury remains of German war dead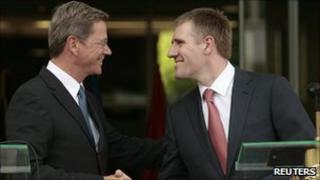 Germany and Montenegro have signed an agreement on burying the remains of German soldiers killed during World War II.
The agreement was reached during a visit to the Balkan state by the German Foreign Minister, Guido Westerwelle.
A site containing more than 400 bodies was excavated in Montenegro's capital Podgorica in 2007.
The agreement means a new German cemetery will be built in Montenegro to house the remains.
Mr Westerwelle, who is currently on a tour of the Balkans, described the agreement as "a connection between facing the past and an orientation towards the future".
His comments were echoed by the Foreign Minister of Montenegro, Milan Rocen, who described the deal as a "historic event".
Since the discovery of the bodies by construction workers, the remains have been kept at a Roman Catholic community house near Podgorica.
Around 2,000 German soldiers believed to have been killed in Montenegro during the war are still officially considered missing.
Most died between 1941 and 1945 in clashes with Yugoslav communist resistance fighters, known as the partisans.