England riots: Latest global reaction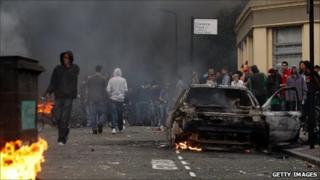 As England deals with the aftermath of the worst street riots in decades, foreign publications are reflecting on what exactly happened in the streets of London and other cities, and why.
Here is a selection of their latest comments.
Europe
Russia
Laziness, idleness, and the appetite for easy takings: the prime minister blames it on the family and school. People who live in the affected areas, however, blame the prime minister himself for what happened. Russian state-owned Rossiya 24 news channel
Observers agree that young people from the fringes of society used the unstable situation for their own gain. Moreover, calls "to have fun" were heard during arson attacks. Russia's daily Nezavisimaya Gazeta
Germany
Who can say for sure that Spanish, Israeli, even German youths are not on the same path, even if perhaps a generation later.The Berliner Zeitung
Turkey
Who has lost more? The black people, who are ignored, lived in poverty and are treated as "eternal" criminals for years or the "clean Londoners with smiling faces" who have organised through Twitter and Facebook and tried to sweep away what the rioters have left behind with brooms and shovels in their hands? Berrin Karakas in Turkey's centre-left Radikal
Spain
England, like other countries in Europe, faces two questions. One: For what reason can some immigrants not assimilate, cannot integrate? Two: Can western nations, in a time of deep crisis, maintain all the benefits that we have become used to in a welfare state? What can be cut? Opinion piece in El Mundo
France
What motivates the English rioters, those who, unlike those defendants, have really been active? As often in these cases, a mix of anger and boredom, of provocation and opportunism, a kind of middle finger pointed at all authorities, starting with the police, and a homage to the consumerist society via looting. Liberation
US and Canada
US
Britain — a leading critic of crackdowns by totalitarian governments overseas — is suddenly finding itself in a heated debate over the methods it should use to combat lawlessness at home. Washington Post
Britain weighs personal freedoms against need to keep order
The riots in London and elsewhere in England have confirmed what I long knew and have long preached to my disbelieving but totally unobservant countrymen: that young British people are among the most unpleasant and potentially violent young people in the world. Anthony Daniels in the New York Daily News
Behind England's riots, a violent and entitled generation of British young people
Canada
Candidate Barack Obama's books talked of "dreams" and "hope." For the Brits who are rioting, there's little of either... Their future is bleak and, like those in war zones, they live for today. Today means the trainers in the store window. Mel Cappe in the Globe and Mail
Britain's unentitled riot at the loss of their future
Middle East
Iran
Considering the latest incidents in Britain, suppression of protests and other measures, which are clear proof of human rights violations, will the United Nations issue a warning on human rights to one of the permanent members of its Security Council? Hesamudin Borumand in Iranian hard-line newspaper Keyhan
Israel
London is the cradle of European politeness and self-righteousness, and Israel is the main victim of this moral hypocrisy... Behind the excess morality... hides a very dark, neglected and dangerous backyard. Hanoch Daum in Israel's centrist, mass circulation daily Yediot Aharonot
This is not a revolution as far as one can understand. There is no social ideology behind the masses... A whole generation of children grew up and enjoys the fruit of the welfare state without a real understanding of the magnitude of the privilege they won thanks to the toil of the sons of the big reform generation following World War II. Israel's pro-Netanyahu newspaper Yisrael Hayom
Egypt
Experiences have always confirmed the failure of security solutions in solving economic and social problems or silencing the moaning and the screaming of the classes whose rights are lost and sovereignty is taken. Egypt's pro-government Al-Jumhuriyah
Asia
India
These riots, like a summer storm, will probably disappear as quickly as they came. They will bruise but not wound the Conservative-led coalition government. But it is clear the sense of economic uncertainty, coupled with an evident leadership deficit that pervades much of the world has put many societies on a short fuse. English-language daily Hindustan Times
China
The riots offer food for thought not just for the UK but also for other developed countries. They were the outburst and explosion of a society that has been suffering in silence and which had reached the tipping point... Those who are taking to the streets are people who have nothing to lose. State-run newspaper China Daily
Australia
The needless terror that ordinary Londoners and others in Birmingham, Manchester and across the UK have been subjected to is an utter failure of British policing. Miranda Devine in Australia's Herald-Sun
Africa
South Africa
As difficult as it may be to suppress a smug smile, it would be foolish for South Africans to take any delight in the unrest that is taking place in England... Rather, we should learn what lessons we can from the riots. Editorial in South Africa's national daily newspaper The New Age
London, at its most rapacious with feral youths breaking into electronics goods stores and takkie shops, is still pretty tame by South African standards. Tim Cohen in South Africa's business-focused daily Business Day
BBC Monitoring selects and translates news from radio, television, press, news agencies and the internet from 150 countries in more than 70 languages. It is based in Caversham, UK, and has several bureaux abroad.