Spanish bull kills third victim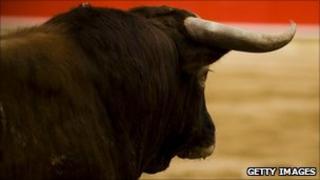 A bull named Mouse has claimed its third victim, killing a man during an amateur event at the traditional August fiesta in the region of Valencia.
Mouse is renowned in Spain, where his fearsome record in the ring has made him a legend and a big draw for both bullfighters and spectators.
The bull had already killed twice before in the last 10 years.
His latest victim, who died in hospital after being tossed around by the bull, appeared drunk, reports say.
Mouse, or Raton in Spanish, was the star draw at this amateur event.
He is a massive bull, weighing more than 500kg (1,100lb).
He had already killed two people; in Xativa on Saturday night, a 30-year-old Spanish man became the third victim.
Killer reputation
Video images filmed in the ring, and shown hourly on Spanish television, show the bull lifting the man on his horns and tossing him to the floor before attacking him further.
The man was immediately dragged out of the ring but died in hospital.
Reports in the local media say he had appeared to be drunk and had already been removed from the ring several times before the bull appeared.
Professional bullfights and amateur events such as this one are a central part of the annual summer festival in Xativa - traditions that date back many centuries.
Raton the bull was the headline act on posters around town.
His killer reputation ensures he is in big demand at such adrenalin-fuelled fiestas and means his owners are said to earn more than $14,000 (£8,600) for every appearance.
In Xativa an official enquiry has been opened into the latest death, but the town's August festival, including the bullfights, will continue.