Spain 'foils gas attack on anti-Pope protesters'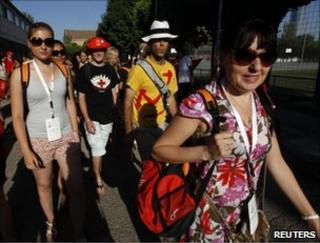 Spanish police have arrested a Mexican chemistry student for allegedly plotting to gas anti-Pope protesters at Madrid's Catholic youth festival.
The suspect planned to attack a march with "asphyxiating gases and other chemical substances", police said.
At least a million people from across the world are in Madrid for a six-day Catholic youth festival.
With Pope Benedict XVI arriving on Thursday, the cost of the event has drawn protests from some.
Demonstrations called for Wednesday evening are due to feature both sections of the 15-M "indignant" movement protesting against the government's austerity drive, and gay rights groups and others campaigning against aspects of Catholic teaching.
'Panic fears'
A police official said the unnamed suspect arrested on Tuesday was a student specialising in organic chemistry.
Officers who searched his apartment seized an external hard-drive and two notebooks with chemical equations not related to his studies and a computer "allegedly used to recruit on the internet", police said.
There was no suggestion that actual chemicals had been found during the search but police had wanted to avoid even the chance of a failed attack that might panic people, according to the Spanish daily El Pais.
The newspaper added that police had been alerted by people who found the man's comments on internet forums in which he said attacks on the Pope were unacceptable.
More than 100 groups opposed to the Pope's visit plan to protest on Wednesday evening.
Spain is going through its worst economic crisis in decades, with the highest unemployment rate in the EU, at 21%.
"We are not angry about the Pope's visit, which some will agree with and others won't, but rather over the financing of it with public money, especially at a time when many services are being cut because it's necessary to curb government spending," 15-M said in a statement.
Young Catholic pilgrims attending the World Youth Day (WYD 2011) festival are camping out in community halls and churches across the Spanish capital during the festivities.
Organisers believe the event will generate about 100m euros (£88m; $144m) for the Spanish economy "at zero cost to taxpayers".
But critics estimate the event will cost a similar sum. Visitors, for example, are being offered half-price travel on public transport during the festival
The government has declined to give a figure for the costs, Reuters news agency reports.
The festival got under way on Tuesday evening with a giant open-air Mass in an atmosphere akin to a rock concert, correspondents say.
Some 800 bishops, archbishops and cardinals from around the world and 8,000 priests tended to the congregation, AFP news agency reports.
Hiroshi Niwuya, a 22-year-old Japanese student, said: "I really wanted to come here for the Pope because there are few Christians in Japan and I wanted to be surrounded by others who share my faith."