Gay kiss row ends with 'a hug'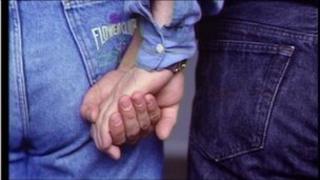 A popular student bar in Cork in the Republic of Ireland has 'made up' with two gay men who were allegedly asked to leave for kissing in public.
The gay kisses at the Old Oak bar in Oliver Plunkett Street happened in the early hours of Saturday morning.
It is claimed that a member of security at the bar approached the couple and asked them to stop kissing.
Later as they kissed again on the dance floor, the same member of staff allegedly escorted them to the door.
The incident prompted a huge online backlash on Ireland's social media network and calls for a boycott of the pub.
But the pub owner Ger Kiely and the couple, who wish to remain anonymous, met up on Tuesday night and later issued a statement.
"After deliberation and discussions, both parties accepted and conceded that mistakes were made by all involved," the statement said.
"The Old Oak apologised for any offence which was taken, but stressed that no offence whatsoever was meant or intended as we are not and never have been anti-gay.
"Equally, the couple involved, who wish to remain anonymous, accepted that they could have handled matter in a better way. Both parties look forward to contuing good relations and custom."