Helmut Kohl attack adds to pressure on Angela Merkel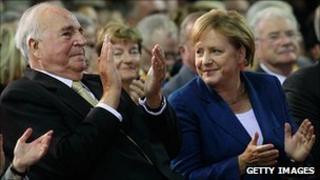 It has a Shakespearian ring to it: like a brooding father turning on his daughter, the great former chancellor of Germany scowls and releases a pent-up attack on his protege.
Helmut Kohl analyses the state of the country in an interview with the journal Internationale Politik, and he does not like what he sees under his successor, Angela Merkel.
"The enormous changes in the world can be no excuse for having no view or idea where you belong and where you are going," he says.
And: "Germany has not been a predictable factor for several years now - at home or abroad."
And: "We must take care not to gamble everything away."
And: "I would never have let myself dream that a serving American president would come to Europe and fly over the federal republic," referring to President Obama's recent visit to Europe where he flew over Germany to Poland.
This might be dismissed as the grumblings of an old leader - "it wasn't like that in my day".
But Chancellor's Merkel's difficulty is that it seems to be resonating with her own Christian Democrat party (CDU).
Libya decision
A string of issues has tripped her up.
She reversed nuclear policy, announcing the closure of nuclear power stations a few months after announcing the extension of their lives.
And now there is Libya, where Chancellor Merkel's government aligned with China and Russia in abstaining over military action, rather than with the United States, Britain and France.
As one commentator in the magazine Spiegel puts it: "Instead of doing its part to rid the world of a tyrant, the German government seemed to prefer the role of schoolmarm… Now, however, it would appear that Germany's partners were right after all and that Berlin was horribly mistaken."
And then there is the euro, always the euro. Her CDU opponents fear she is being drawn into a "transfer union", where German money will pay for deficits in weaker economies.
The country's head of state, President Wulff, questioned whether even the ECB's current policy of buying the debt of Greece, Portugal, Spain and Italy was already a breach of the law.
And the Bundesbank complained that the liabilities of the weak countries were being off-loaded onto the stronger ones.
"A major step is being taken toward common assumption of risks from weak national finances and economic missteps", it said in a bulletin.
No German Chancellor would be wise to go against the views of the Bundesbank, the central bank which is a byword in German minds for stability and steady prosperity.
Or, to go too much against the views of her own party. The German parliament votes in September on the agreement by eurozone leaders on 21 July to widen the scope of the eurozone rescue fund.
A defeat really would be trouble for Mrs Merkel.
Her reply to the criticism is that the current government is "working decisively to master the challenge of these times".
"These times." There's no doubt that this is a period of rare difficulty.
Chancellor Merkel is boxed in by an array of rocks and hard places - and a growling predecessor who once seemed to adore her.