Russia to hold parliamentary elections on 4 December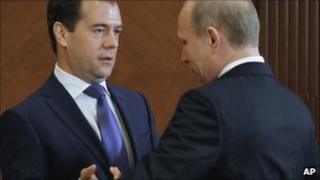 Parliamentary elections in Russia are to be held on 4 December, President Dmitry Medvedev has announced.
He announced the date during a meeting with leaders of the main parties at his summer residence in Sochi.
Parties need to poll at least 5% of the vote to win seats in the State Duma, the powerful lower house of parliament.
Prime Minister Vladimir Putin's United Russia party currently holds 315 of the Duma's 450 seats. The liberal opposition has no seats.
The other parties in parliament - the Communists, the nationalist Liberal Democratic Party and the populist Just Russia - rarely offer much criticism of the government.
The parliamentary elections will be followed by the presidential vote, expected to be held next March.
There is great speculation over whether Mr Medvedev will stand for a second term and over whether his predecessor and mentor, Mr Putin, will seek a return to the presidency.