Gaza flotilla row: New low in Turkish ties with Israel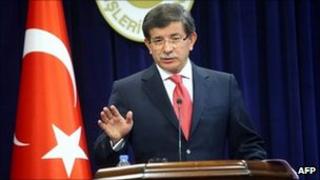 Expelling an ambassador is always a dramatic act. Turkey's decision to order Israeli Ambassador Gaby Levi to leave Ankara by next Wednesday is a blunt statement of how far relations between the two countries have fallen over the past three years.
Given the immense public anger in Turkey over the deaths of nine activists during clashes with Israeli troops aboard the flotilla, the government could hardly have asked for less than an Israeli apology. When that was refused, a strong gesture of disapproval by Turkey was inevitable.
In reality, though, the Turkish reaction to the publication of the UN inquiry merely formalises the freeze in their relations. Turkey had already withdrawn its ambassador to Tel Aviv right after the flotilla incident, and suspended military co-operation, which had in any case been greatly cut back.
Pressure from US
This formal break with Israel would have come a lot sooner, but for pressure from the United States. President Obama has urged both countries - each of them important US allies in the region - to find a compromise.
Senior diplomats have been exploring a form of words which could sound like an apology to Turkey, but be presented as something less than an apology to Israel. The publication of the UN inquiry was delayed three times to allow the talks to progress, and as recently as last month they seemed close to a deal.
That this did not happen is a consequence of domestic politics in both countries. Hardliners within the governing coalition in Israel opposed any statement that sounded like an apology. And the Turkish Prime Minister, Recep Tayyip Erdogan, kept up a torrent of criticism of Israel.
His constituency is a conservative, Muslim one which is strongly sympathetic to the Palestinians, and hostile to Israel, so talking tough goes down well with his supporters; a compromise would have been a harder sell, and probably distasteful to a politician who gets visibly angry about Israeli policies.
Middle East turmoil
But Turkey has not severed relations altogether, and in time they could yet be revived.
There will be pressure to do so because of the turmoil in the rest of the Middle East.
Last year Turkish diplomats liked to point out that they simply did not need Israel as much as they used to. Turkey had reversed decades of frosty relations with its immediate neighbours, building new commercial and political ties with the governments in Iran, Iraq and Syria. Turkey's economic success and dynamic politics were the envy of the Muslim world; Mr Erdogan's readiness to scold Israel made him a hero on the Arab street.
But all those calculations have been undone by the popular uprisings this year in the Arab world. The carefully nurtured rapport with the Assad regime in Syria has collapsed. Outright hostility towards Israel is a luxury Turkey may eventually feel it should drop as it grapples with the shifting political landscape on its border.
Mending fences
Ending military co-operation means the Turkish armed forces will have to look elsewhere for equipment. In the past it signed substantial contracts with Israeli companies to upgrade its US-made planes and tanks. Last year it took delivery of ten Israeli-made Heron drones, which are being used in the war against Kurdish insurgents along the border with Iraq.
It also means Israeli forces can no longer exercise in Turkey. But that co-operation too has been declining for some years.
Tourism has also suffered, but then the numbers were never very large. Trade between Turkey and Israel, however, is doing surprisingly well - up 26% in the first half of this year.
When their friendship started to sour, it was not just the US that pushed for a rapprochement. The government in Syria, one of Israel's most implacable foes, also urged Turkey to mend fences with Israel. Given how far Turkish-Syrian ties have now fallen that call is unlikely to be repeated. But it demonstrated how useful the Turkish-Israeli axis was, even to other Arab countries. It is badly damaged, but probably not beyond repair.