Growing French sympathy for ailing Jacques Chirac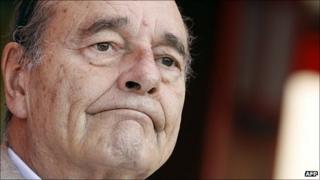 There was an opinion poll a few years ago that found that the person the French people would most like to have dinner with was none other than Jacques Chirac.
The result says a lot about the relationship between the public and their former president.
No-one particularly rates him as a political leader. Asked what ideas he ever stood for, few would be able to give a clear answer.
But there is nonetheless a widespread affection for the man, doubtless because he appears rooted in values that are reassuringly French.
People may have long forgotten President Chirac's abject failure to reform the French economy, and his interminable flip-flops on the European Union.
Instead they remember the trencherman with a fondness for beer and bawdy jokes; the countryman patting cows' bottoms at the Paris farm show; the devoted family man with the roving eye.
So it was with much sympathy that the French learned this weekend of the serious mental problems now afflicting their former head of state.
According to a medical report prepared ahead of his corruption trial - which is due to start on Monday - Mr Chirac is in a "vulnerable" state and unable to answer reliably questions about his past.
This accords with anecdotal evidence reported in recent days in French newspapers, according to which Mr Chirac's mental health has taken a sharp turn for the worse.
One family friend told Le Journal du Dimanche newspaper that he is "no longer able to hold a conversation. He is quite capable of asking aloud who on earth (prime minister Francois) Fillon is, or of suddenly getting up because he wants to leave".
According to Mr Chirac's son-in-law Frederic Salat-Baroux - the husband of his daughter Claude: "His state of health has deteriorated in the last months. It is no longer possible for him to attend the trial in humane and dignified conditions."
Other friends have said the former president has difficulty holding his balance and often leans on his security staff when walking.
While there has been muttering in some quarters about the convenient timing of the medical report, the evidence of his declining health seems incontrovertible.
Doctors quoted in the French press over the weekend said the former president is suffering from a neurological condition linked to Alzheimer's, which may have been triggered by a mini-stroke in 2005.
Fairness in question
According to one expert quoted in Le Journal du Dimanche, Mr Chirac appears also to have anosognosia - a condition in which the sufferer of a disability is unaware of their problem.
In these circumstances there are obvious doubts over the pertinence of subjecting Mr Chirac to cross-examination in court.
The events under consideration date back nearly 20 years. This was when, as mayor of Paris, Jacques Chirac is alleged to have used city funds to pay the salaries of members of his political party.
If Mr Chirac is genuinely unable to recall the detail of his decisions back then, the fairness of any trial will obviously be called into question.
In a letter which he sent to the judge accompanying the medical report, Mr Chirac asked to be excused attending the trial. But he said he still wanted to be treated as a citizen like any other, and that the proceedings should go ahead.
There is of course a strong argument that as a matter of principle the former president should face justice - if only to reinforce the message of zero tolerance towards illegal party funding.
But a growing number of French people are beginning to feel differently. No-one wants to see an old man humbled. Many would be relieved if the whole case was conveniently shelved.