Sinn Fein should run for Irish presidency - Mary Lou McDonald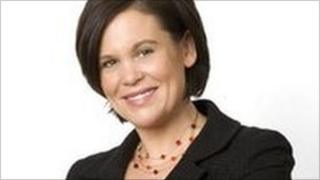 Sinn Fein's deputy leader Mary Lou McDonald has backed the party to run a candidate for the Irish presidency.
Ms McDonald, a member of the Irish parliament, did not suggest names but said no-one, including herself and other serving members, should be ruled out.
Nominations for the presidency close on 28 September and the election will take place on 27 October.
So far there are four confirmed candidates.
They are Fine Gael's Gay Mitchell, Labour's Michael D Higgins and independents Sean Gallagher and Mary Davis.