Spanish Socialists take high-risk gamble on deficit reform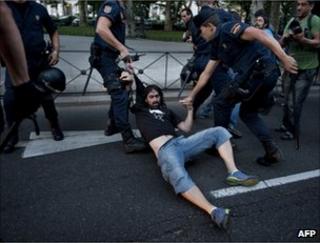 Spain's governing Socialist party is battling to rescue its battered approval rating ahead of a general election on 20 November. But a new policy intended to reassure investors of Spain's solvency is threatening to do even more damage to the party at the polls.
The reform, approved in the Senate on Wednesday, enshrines the principle of budget stability in the constitution. It makes Spain the second eurozone country after Germany to set a legally binding cap on public debt and deficit levels.
Prime Minister Jose Luis Rodriguez Zapatero presented it as "critical" to create confidence in the country's finances, as nervous financial markets pushed the cost of government borrowing towards unsustainable heights.
But his surprise reform - the first significant change to Spain's young constitution - has provoked a wave of angry street protests, by trade unions among others, as it has been fast-tracked through parliament. It has also sparked a rare rebellion within the Socialist Party itself.
"For me, this reform is a grave error - it's nonsense, politically and economically," says Antonio Gutierrez, a Socialist deputy in parliament who voted against the party line for the first time ever. That stance earned him a fine of 600 euros (£525; $850).
"I think this is a disgrace for my country, and will damage the party's chances further in the elections," he told the BBC.
Three other Socialist deputies boycotted Friday's vote in the lower chamber of parliament both in protest at the reform's content and the lack of consultation. Even the defence minister expressed reservations, and Antonio Gutierrez says many deputies admitted in private to their concerns.
"Four or five rebel deputies isn't critical, but it's a sign of how hard this reform was for the party to accept," explains Joan Vintro Castels, professor of constitutional law at Barcelona University.
"In the end, the party leaders managed to convince people because a divided party would have been catastrophic just two months before elections."
Borrowed policy
Still, as the reform's approval was announced in parliament there was a telling lack of applause from the Socialist benches. And beyond Congress, the measure has provoked growing calls for a referendum.
"The Socialists have turned to the right, politically, since the economic crisis," says Ezequiel, a protester at one rally near parliament. "I think they will lose a lot of votes." Like many, he fears a deficit cap will lead to cuts in social spending to meet legal targets.
"We want to be asked about this at least," complains teacher Sara Alvarez.
"I don't know why there's such a rush. I used to vote for Zapatero but he has changed completely. Now it seems the IMF and European Bank are ruling our country."
Spain's Socialists are already trailing some 14 points behind their main, conservative opposition, the Popular Party (PP), in opinion polls. The government's rating has plummeted during a recession that has left almost five million people unemployed.
Some believe the Socialists have now committed political suicide in the rush to please investors. Others suggest they had no choice.
"It's not like this reform will lose them the election," argues David Bach, an expert in political economy at IE business school who says the government's only hope now is to deny the PP an absolute majority.
"Winning it would require a miracle. Concern over the political fallout from this reform was not enough to override the government's terror of the markets."
He points instead to the fact the constitutional amendment has the unprecedented backing of the PP, something Mr Bach calls "a remarkable demonstration of statesmanship" given the two parties' historic animosity.
In fact, the deficit cap was originally proposed last year by the PP and dismissed outright then by the Socialists. One year on, circumstances have changed.
Regional pressure
"Spain had to dispel the doubts over its solvency," writes Javier Perez Royo in El Pais, arguing that this reform was the "most credible response available" to prevent a bailout.
"November 20th is round the corner. But life continues after the elections."
There are other signs of damage to the Socialist cause, though. Basque and Catalan nationalist parties complain bitterly about being sidelined in the reform process, arguing that new regional deficit limits place unacceptable restrictions on their autonomy.
"This doesn't help create positive feelings about the constitution," warns Professor Vintro Castels.
"I think this will increase support for the nationalists at the elections. I think the Socialists will lose Catalonia for the first time."
The Socialists' best chance of averting all-out disaster appears to be the hope the PP will be damaged by exposure.
After playing its cards close to its chest in opposition, the party is now in the spotlight and talking of "challenges" ahead.
Already, a new PP regional government in Castilla-La Mancha has announced a 20% cut in spending; in Madrid and elsewhere, cuts in education funding are bringing teachers out on strike.
Meanwhile, there are signs the government's gamble may have allowed Spain very short-term relief. Fears of renewed recession in Europe are pushing borrowing costs back up again.
"This reform is significant, but it's not enough if there's no basis for growth in the economy," admits David Bach. "This was one piece in the puzzle, but it's not the silver bullet."