Lugovoi still main suspect in Litvinenko killing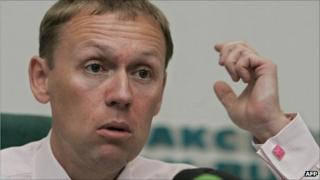 A former KGB officer, who is now a lawmaker in the Russian parliament, Andrei Lugovoi, remains the main suspect in the killing of the former Russian agent, Alexander Litvinenko.
Mr Litvinenko died in a London hospital in 2006 after being poisoned with radioactive polonium-210.
Mr Lugovoi, who is said to have left a trail of polonium around London, is accused by British police of lacing Mr Litvinenko's tea with the poison.
'Criminal matter'
But Mr Lugovoi continues to protest his innocence. Russian officials have said they will not hand him over because it would violate the country's constitution.
Reacting to Britain's formal request for his extradition in May 2007, Mr Lugovoi said: "They [Britain] think that they found a Russian James Bond that penetrates nuclear facilities and, in cold blood, poisons his friend, and at the same time poisoning himself, his friends, his wife and children."
Mr Lugovoi claims that Mr Litvinenko was a British spy, and has suggested that either the UK's Secret Intelligence Service (SIS, commonly known as MI6) carried out the killing, or Mr Litvinenko accidentally poisoned himself.
"Even if [MI6] hadn't done it itself, it was done under its control or connivance," said Mr Lugovoi.
Mr Lugovoi also claimed MI6 tried to recruit him to provide "compromising information" on then-Russian President Vladimir Putin.
The Foreign Office said that the matter was a criminal rather than an intelligence matter.
"A British citizen was killed in London and UK citizens and visitors were put at risk," said a Foreign Office spokesman.
The Crown Prosecution Service says it has enough evidence to charge Mr Lugovoi with the murder of Mr Litvinenko.
Traces of the radioactive substance polonium-210, which caused Mr Litvinenko's death, have been found in a string of places Mr Lugovoi visited in London.
On 16 October, he visited Parkes Hotel in Knightsbridge, where two rooms were later found to be contaminated.
He later met Mr Litvinenko in the Itsu sushi restaurant in Piccadilly, which was also found afterwards to have traces of the substance.
Then he stayed at the Sheraton Park Lane Hotel in London's Mayfair, where another two rooms were found to be heavily contaminated.
Fatal meeting
On 1 November came the meeting with Mr Litvinenko, along with two other Russians, in the Pine Bar at the Millennium Hotel, which investigators believe proved fatal.
A cup, teapot, the bar and bar staff are all believed to have tested positive for polonium-210.
Investigators suspect that a phial of polonium-210 could have been tipped into Mr Litvinenko's tea.
Mr Lugovoi has repeatedly denied any wrongdoing, suggesting that someone has been trying to frame him.
He underwent medical checks in hospital after traces of polonium-210 were reportedly found in his body.
He has also been questioned by Russian and British detectives as a witness.
In 2011, Mr Lugovoi told the BBC he was aware that the case was causing an impasse in British-Russian relations.
He suggested getting a third country to conduct an independent investigation.
Mr Lugovoi was elected to the Russian parliament, the Duma, in December 2007, as a representative of the right-wing nationalist Liberal Democratic Party of Vladimir Zhirinovsky.
In March 2009, the party announced that Mr Lugovoi would be its candidate for the elections of the Mayor of Sochi, the host city of the 2014 Winter Olympics.
However, he decided to remain as an MP in the Duma and seek re-election to the Russian parliament in 2011.