John Galliano: Rise and fall of a tormented celebrity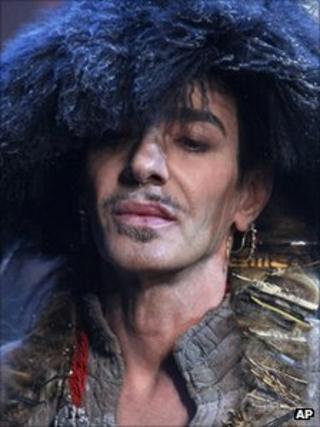 In the dossier that was presented to the court in Mr Galliano's defence, a story emerged of a celebrity tormented by fear, hate, self-indulgence and loneliness.
There were plenty of people within the fashion industry who saw this tragedy unfolding. But it seemed no-one had the power to stop it.
Out of work friends describe a humble man, who had celebrated diversity through his designs on the catwalk.
He was contemptuous of the kind of bigotry he had displayed, said one. "He had suffered it himself as a gay man".
But by night he was a different character. So common were the outbursts during his frequent drinking binges that his chauffeur even had instructions to call his lawyer if the row got out of hand.
Galliano told the judges he barely recognised himself in the video that was played in court. He had no recollection of the things he had said.
"Creative rehab"
Galliano had fallen victim to this addictive personality before.
Early in his career he had developed a reputation as a wildly eccentric figure. In the early 90s it was said his career had sunk to such a low that he was out on the streets, quite literally, when Anna Wintour of Vogue rediscovered his work and propelled him back towards the limelight.
He told the court in July he had undergone two months of rehab at clinics in Arizona and Switzerland since the scandal erupted. But he still looked a fragile figure on the stand and since then has been keeping a low profile in the Marais neighbourhood of Paris where he has his flat.
In the upcoming September issue of Vogue US, Galliano says part of the recent therapy has been the work he did on supermodel Kate Moss' wedding dress. After months avoiding the industry it appears to have reawakened some of his appetite for the job.
"She dared me to be John Galliano again," he said. "I couldn't pick up a pencil. It's been my creative rehab."
The dress he designed certainly found favour with Kate Moss and her guests.
"I've lived in his dresses for years," she told a reporter at the wedding. "They just make me feel so comfortable. When I put the dress on, I'm really happy. I forget everything."
Downward Spiral
But is Galliano happy? He told the court in July that it was the death of his close friend and business partner, Steven Robinson, that had begun this downward spiral.
Mr Robinson, who was 38 years old when he died, was a rising star of haute couture. He was the mediator between Galliano and the House of Dior. And when Robinson died, suddenly, in 2007 Galliano's behaviour grew more erratic, his tantrums ever more predictable.
The pressures were growing and even before February's tirade, there were rumours circulating in the business that his days at Dior were numbered.
Workload
Some of Mr Galliano's friends blamed the workload. He oversaw the creation of at least 12 collections a year at the House of Dior; on top he had responsibilities for accessories and shop layout.
It was perhaps inevitable, said Jean Paul Cauvin of Fashion Daily, that the designer would lose some of the artistic flair.
"You could see the problems coming ever since Steven (Robinson) died, John wasn't really the same," said Mr Cauvin. "The inspiration and the interpretation of his art was still very high, but it was not renewing itself sufficiently.
"Fashion is a business, it's not only an art. And that's a very difficult balance to strike. When you are at the helm of a big house like Dior, one of the biggest in the world, one of the most famous, one of the most prestigious ones, there are big big pressures."
Cocaine in system?
Dior did try to help and had encouraged him on several occasions to seek therapy, but did they do enough?
"Probably what happened, when they were faced with this problem, which was a real problem, a tragedy for them as a business, too, they probably jumped on the opportunity to get rid of him. To me, this is not really nice," said Mr Cauvin.
In the past month, there have been headlines that reveal new details about Mr Robinson's death - and perhaps unveil the kind of world in which John Galliano was circulating.
It is claimed his friend had up to 7gms of cocaine in his system when he died.
Initially, it was reported Mr Robinson died of a heart attack with nobody else involved in his death - but now it is alleged he had in fact been supplied cocaine, worth £450, by an illegal immigrant from Senegal who was later convicted of Mr Robinson's manslaughter.
In a further twist, lawyers claim that the dealer had supplied cocaine to numerous fashion stars and leading French politicians.
Reputation in tatters
Most people who sat in the court in July agreed that Mr Galliano was now more deserving of pity than punishment.
It seemed even the prosecution agreed. They asked for a much more lenient fine than the court could have handed down.
But in truth the punishment has already been served on John Galliano by the court of public opinion.
His reputation lies in tatters. It is hard to imagine any of the big fashion houses taking a gamble on him again.