Russia bids farewell to hockey players killed in crash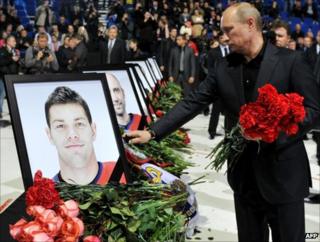 Some 100,000 mourners, including Prime Minister Vladimir Putin, have paid last respects to members of a Russian ice hockey team killed in an air crash.
Coffins containing the 36 players and staff killed on Wednesday were lined up on the stadium rink in Yaroslavl, north of Moscow, where Lokomotiv plays.
Mr Putin walked silently past, placing red carnations beside the coffins.
The only two survivors, a player and a member of the plane's crew, remain in a critical condition in hospital.
The cause of the crash is not yet known.
Athletes from fellow Russian teams, hockey officials and fans were among 35,000 people who packed into the stadium for a ceremony which lasted several hours.
'So many'
Police told Russian media about 100,000 people had come to pay their respects to the three-time Russian champions, despite heavy rain.
"We've lost so many young people," said a middle-aged man, tears rolling down his cheeks.
"I am a father, it's difficult for me to talk about it and look, the weather is crying as well," he was quoted as saying by Reuters news agency.
The dead included the team's Canadian coach, Brad McCrimmon, and Swedish Olympic champion goalie Stefan Liv.
Those who survived are Lokomotiv winger Alexander Galimov and crew member Alexander Sizov.
Seven members of the crew of the Yak-42 jet were also killed when the plane crashed just after take-off from an airport outside Yaroslavl, a city on the River Volga about 250km (150 miles) north of Moscow.
The team had been en route to a match in Belarus.