Russian plane crash: Last ice hockey team member dies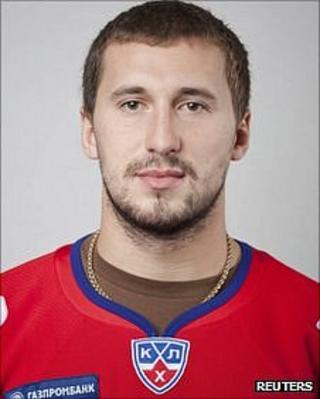 The only member of a Russian ice hockey team to survive a plane crash last week has died of his severe injuries.
Alexander Galimov suffered burns to 90% of his body in the accident last Wednesday. Despite intensive treatment, he died on Monday morning.
Forty-three others were killed in the crash, including all of Galimov's team-mates from the major league ice hockey team Lokomotiv Yaroslavl.
One other person, a crew member, survived, and is in intensive care.
The Russian Hockey Federation issued a statement on Monday saying: "We express our deepest condolences to the families and friends of Alexander, and all to whom his fight for life has remained the last hope in this terrible tragedy."
The crash had deeply hurt a country where ice hockey is a favourite sport, and many Russians had pinned their hopes on Galimov's recovery.
Coffins lined up
At rallies following the crash, fans chanted "Galimov, live for the whole team!"
Unlike many of Lokomotiv's international stars, the 26-year-old winger was a native of the city of Yaroslavl, and had played with the club since his youth.
On Saturday some 100,000 mourners, including Prime Minister Vladimir Putin, paid their respects to Galimov's team-mates and colleagues.
Coffins containing the other 36 Lokomotiv players and staff were lined up on the stadium rink in Yaroslavl, where Lokomotiv play.
Seven members of the crew of the Yak-42 jet were also killed when the plane crashed just after take-off from an airport outside Yaroslavl, a city on the River Volga about 250km (150 miles) north of Moscow.
The eighth member of the crew, Alexander Sizov, is now the only survivor of the crash.
The team had chartered the plane to fly them to a match in Belarus.
The cause of the crash is not yet known.