Spanish wildfire forces Mijas and Ojen evacuations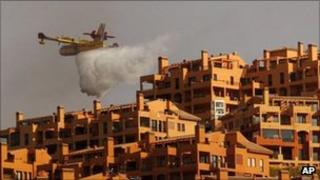 A wildfire burning in southern Spain's Andalucia region has forced some 200 people to evacuate their homes.
The fire broke out near the towns of Mijas and Ojen, close to the popular tourist resort of Marbella.
Scores of firefighters have been tackling the flames while aircraft have been dumping water and spraying homes to keep them cool.
Officials said the blaze was largely under control by Monday evening and residents were allowed to return home.
"The fire broke out [on Sunday] in high temperatures, winds of more than 20km/h (12mph), and a breakout zone made up of thicket and pine groves," the Andalucian fire department said in a statement.
Four houses were burned but there were no reported injuries, local government officials told the BBC.
The regional minister for the environment, Juan Jose Diaz Trillo, said about 400 hectares of land had been burned, the EFE news agency reports.
He told reporters the fires had died down but that there were fears high temperatures and strong winds could cause a fresh outbreak.
British residents in the area said they regularly saw forest fires but that these were among the worst.
One Briton said her car had been covered in ash on Monday morning.