Turkey's PM Recep Tayyip Erdogan to outline Egypt plan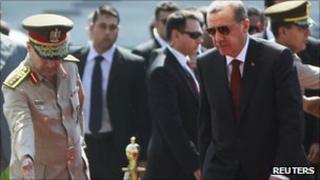 Turkish PM Recep Tayyip Erdogan is visiting Cairo to offer support for Egypt's transition to democracy.
He is expected to set out details of that assistance in an address to Arab League foreign ministers.
Mr Erdogan is touring three Arab states that recently ousted their leaders. He arrived in Egypt last night.
The Turkish leader, who has garnered popularity among Arabs for his denunciations of Israel, was met by an enthusiastic crowd in Cairo.
Mr Erdogan's visit to Egypt comes amid worsening Turkish relations with Israel since Israeli forces boarded an aid ship in May last year as it was heading for Gaza.
Nine Turkish activists were killed during the raid. Israel has refused to apologise and said its troops acted in self-defence.
But, says the BBC's Jonathan Head, in Cairo, he may have to temper his anti-Israeli rhetoric to avoid upsetting his hosts as the Egyptian government is trying to calm public anger towards Israel, following an attack on its embassy in Cairo on Friday.
Inspiration
The size of the prime minister's delegation - which numbers more than 200 people including ministers, officials and representatives - matches his big ambitions in changing the Middle East, our correspondent adds.
Mr Erdogan is expected to offer both practical help, in the form of trade, investment and financial aid for Egypt's economy, badly hit by the political turbulence, and the inspiration of Turkey's own democratic transformation.
The Turkish leader is also expected to make an address at the university of Cairo.
"The visit is important," said Mohammed Adel, a member of the 6 April movement of youth activists involved in the protests that ousted former President Hosni Mubarak in February.
"We need to preserve our relations with Turkey and all the countries that want to help the Arab world and take advantage of them to create a stronger political front to enhance the Arab states' position against Israel."
His tour will continue with a visit to Tunisia, where the popular overthrow of President Zine al-Abidine Ben Ali in January sparked similar movements across the region, including Libya.
Mr Erdogan has said he will not attempt to carry out his plan to travel to Gaza from Egypt during this trip, but hopes that he can travel there in the near future.