EU boosts powers of border agency Frontex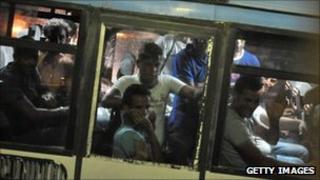 The European Parliament has voted to increase the powers of the EU border control agency, Frontex, enabling it to respond better to emergencies.
It should now be able to deploy larger numbers of border guards, and more quickly, in response to crises at the EU's external frontiers.
Some Mediterranean EU states struggling with illegal immigration have accused the agency of being ineffective.
Frontex will also appoint an inspector to ensure respect for human rights.
The new rules were passed by MEPs in Strasbourg by 431 votes to 49, with 48 abstentions.
Frontex, which has no standing force of border guards of its own but borrows them from member states, will have new powers to oblige countries to contribute, the BBC's Hugh Schofield reports from Strasbourg.
It should also be able to own or lease its own equipment, again instead of borrowing from members, and will thus be able to deploy more quickly.
This, however, depends on Frontex being granted more money in next year's EU budget, which is far from being assured, our correspondent adds.
Burden-sharing call
Frontex was set up six years ago to help reinforce the EU's external frontier at the same time as most internal borders in the Schengen zone were coming down.
Southern member countries have argued that northern states should contribute more to the task of patrolling the external borders because countries like Germany, Britain and France are the intended destinations of most of those who make the crossing from Africa, or from Turkey to Greece, our correspondent says.
Human rights groups have been alarmed by the treatment of migrants, many of whom have been kept in overcrowded holding centres.
Frontex will recruit a "fundamental rights officer" and set up a "consultative forum on fundamental rights", to include EU, UN and non-governmental bodies on the rights of asylum-seekers, the European Parliament said in a press release.
Sylvie Guillaume, a French Socialist MEP, welcomed the news, accusing member states of a "tendency not to enforce rules on respect for human rights".
"This is not a blank cheque," she added in a statement posted on Twitter.
"Frontex must be monitored and must answer to the European Parliament... [The agency] is only an instrument of EU migration policy."
The new arrangements should take effect by the end of this year.