French ex-PM de Villepin's Clearstream acquittal upheld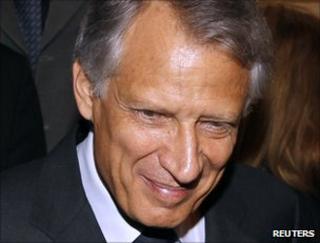 A French appeals court has upheld the acquittal of ex-Prime Minister Dominique de Villepin on charges of smearing President Nicolas Sarkozy.
It threw out an attempt by prosecutors to reverse last year's verdict on his role in the 2004 Clearstream inquiry.
Mr de Villepin had been accused of failing to halt an investigation into false allegations against Mr Sarkozy.
The two former political allies are expected to stand against each other in next year's presidential election.
"I've come out of this test even stronger than before, and even more determined to serve my fellow Frenchmen," Mr de Villepin told reporters outside the court, following the verdict.
In 2004, while they were both preparing for an earlier presidential bid, Mr Sarkozy's name appeared on a list of top politicians and businessmen who were wrongly linked to an illegal bank account in Luxembourg.
The list was sent to people including Mr de Villepin, who was accused of knowing about the conspiracy but failing to stop it.
Rivals
A lower court acquitted Mr de Villepin last year of charges of complicity in slander in the affair, which was dubbed Clearstream after the bank involved.
Two co-accused, former deputy heads of aerospace giant EADS Jean-Louis Gergorin and former EADS employee and mathematician Imad Lahoud, were given jail sentences of six and 18 months respectively and fined 40,000 euros (£35,000; $55,000).
Mr de Villepin left the ruling UMP party this year and set up his own, Republic of Solidarity.
His rivalry with Mr Sarkozy dates back to their years together as ministers under former President Jacques Chirac.
This week, both Mr de Villepin and Mr Chirac were accused by a lawyer of having taken $20m in cash from African leaders during the 1980s and 1990s, partly to finance election campaigns.
They have vehemently denied the claims, and threatened to sue their accuser, Robert Bourgi, who was for a long time an unofficial intermediary between Paris and African governments.