Belarus man pleads guilty to bombing Minsk metro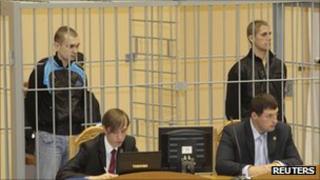 A Belarusian man has pleaded guilty to bombing the metro in the capital Minsk, an attack which left 15 people dead and 200 wounded.
Dmitry Konovalov, 25, the alleged mastermind behind the bombing, also confessed at the start of his trial to earlier attacks in Minsk and Vitebsk.
But his alleged accomplice, Vladislav Kovalyov, also 25, has asked to withdraw evidence he gave initially.
Mr Kovalyov said he had been put under pressure by investigators.
"I do not confirm the evidence I gave because it was delivered under pressure," Mr Kovalyov said. "I was afraid of being executed."
Mr Kovalyov did admit a charge of failing to report preparations for the metro attack to the authorities.
AFP news agency notes that Mr Kovalyov's remarks in court were ignored in Belarusian state TV accounts of the trial, which concentrated on Mr Konovalov's guilty plea.
The two men are said to be childhood friends from the northern city of Vitebsk.
If convicted, they could both face the death penalty. Investigators say they were also involved in earlier bomb attacks, one in Minsk in 2008 and one in Vitebsk. Scores of people were injured in those attacks.
The metro bombing shocked the ex-Soviet country, which has had little previous history of terrorist violence.
The bomb was detonated during evening rush-hour as a train drew into a metro station.
CCTV images released shortly afterwards appeared to show a man carrying the bomb in a hold-all.
Belarus's authoritarian President Alexander Lukashenko announced days after the attack that two people had confessed to the attack.
Officials have not said what the motive for the attack may have been.