French Socialist rivals hold TV debate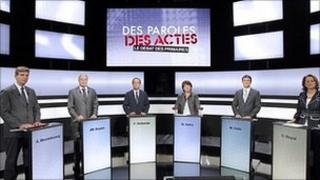 The six contenders for the right to stand for France's opposition Socialists at the 2012 presidential poll have held a live TV debate.
The candidates were careful to avoid attacking each other and instead sought to show a common aim in ousting President Nicolas Sarkozy.
However, the debate was overshadowed in the French media by the president's visit to Libya on Thursday.
The Socialist candidate will be chosen at US-style primaries next month.
For the first time the post will be open to any French voter with leftist leanings.
Critics say the primaries campaign has lacked dynamism. At the same time, the party is still plagued by bitter infighting.
The front-runners are former party boss Francois Hollande and the party's current leader, former cabinet minister Martine Aubry.
Opinion polls suggest Mr Hollande has developed a clear lead over Ms Aubry.
The other candidates are Segolene Royal, the Socialist presidential candidate defeated in 2007; Arnaud Montebourg; Manuel Valls; and Jean-Michel Baylet.
In the debate on the France 2 channel, Mr Hollande said making sure that the Socialists took power in 2012 was "the only thing that matters".
"My priorities are yours - employment, spending power, education and security," said Ms Aubry.
The primaries are scheduled for 9 and 16 October.
President Sarkozy is widely expected to stand for re-election.
The Socialists suffered a major setback in May when the man seen as their best hope for 2012, former IMF chief Dominique Strauss-Kahn, was arrested in New York on an attempted rape charge, since dropped.
Mr Strauss-Kahn, who recently returned to France and is not registered to stand in the primaries, is due to break his silence on the scandal in a TV interview this Sunday, AFP news agency reports.