Prussian King Frederick the Great's erotic poem found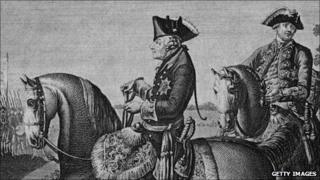 An erotic poem written by Prussian King Frederick the Great has been discovered in a Berlin archive, more than 200 years after he died.
The poem is called La Jouissance, which means pleasure in a general sense, but also has a sexual connotation.
It was written in French in July 1740, a few weeks after Frederick became ruler of Prussia, a German kingdom.
He said he had written the poem to show that northern Europeans were as passionate as southerners.
Vanessa de Senarclens, a French literature teacher at Berlin's Humboldt University, found a copy of the original manuscript among some of the king's letters.
She told German media the poem would have been difficult to reconcile with Frederick's image as a great military commander.
'Divine lust'
German newspaper Die Zeit printed the full poem on Thursday.
Translated into English, some of the verses read: "Swept away by love, trembling with impatience / He plunges into the arms of Chloris.
"The love which unites them, inflamed their kisses / And locked their intertwined arms more tightly / Divine lust! Queen of the world!"
Frederick ruled for 46 years, transforming Prussia from a minor Germanic kingdom into a European power. He was an important patron of the arts.
The poem is said to throw new light on the king.
Frederick explained his reasons for writing the poem in a letter to his friend, the French philosopher Voltaire.
He said he had created it because an Italian friend had claimed northern Europeans lacked the passion of their southern counterparts.
La Jouissance surfaced originally in the 19th Century but was not included in any books on Frederick the Great and was buried in the royal archives.