Hungary 'to prevent toxic sludge firm bankruptcy'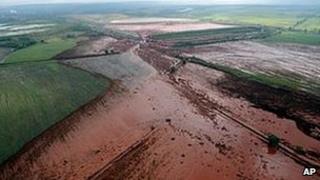 The Hungarian government says it is working to prevent the bankruptcy of a company that was heavily fined over a major industrial accident last year.
The firm, MAL Zrt, was fined more than $650m (£412m) this week for damages caused by the red sludge disaster last October.
The alumina producer has announced it will appeal against the fine.
Ten people died and two villages and a town were heavily polluted when toxic waste material leaked from a reservoir.
MAL Zrt is under attack from all sides.
The government has made it clear that it blames the firm for the disaster which polluted a wide swathe of countryside.
The regional environmental and water management authority issued a massive fine on Wednesday.
Around 30 individuals affected by the red sludge are suing the company, and there is an ongoing criminal inquiry led by the National Bureau of Investigation, which has named four suspects from the company management.
A new statement from the government waves both a carrot and a stick.
For the first time, the government has publicly stated that what it called intense negotiations are under way with the company, and that it will do everything necessary to keep the company both solvent and operational.
One way to do that might be its partial nationalisation.