McGuinness declared Sinn Fein's presidential candidate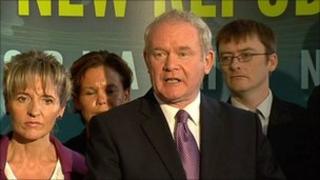 Martin McGuinness has been formally declared as Sinn Fein's candidate in the Irish presidental election.
The 61-year-old's nomination was ratified by the party's Ard Chomhairle in Dublin.
SF MLA John O'Dowd is to be nominated as a temporary deputy first minister for Northern Ireland on Monday.
Mr McGuinness said he would only take "an average wage" if elected and that the rest of his salary would go back to the public purse.
He added: "A number of people in the north who lost loved ones as a result of the actions of the IRA have actually come to me and pledged their support in this campaign.
"That gives me tremendous encouragement because I think they see me as someone who has been at the heart of the Good Friday Agreement, the negotiations that brought about the St Andrews Agreement, the Hillsborough Agreement, and the building of very important relationships with our unionist brothers and sisters."
Mr McGuinness said he expected his past as an IRA commander to be brought up during the course of the election campaign.
"I have promoted peace everywhere that I have gone but I know there will be a very strong temptation for people to drag us back to the past.
"God knows there are enough of them trying to do so, in a violent sense, at the moment," he said.
"But I am of the here and now and I am someone who is very focused on the future."
'Baggage'
DUP MP Ian Paisley said: "If our politicians who are problem politicians decide to export themselves to the south of Ireland then that's probably not a bad thing.
"It clears the way for new blood to enter real politics in Northern Ireland.
"It's been a lot of the baggage that people like Martin McGuinness have carried with them to the political scene that has caused difficulties."
Earlier on Sunday, the former Conservative minister, Lord Tebbit, said Mr McGuinness should publicly confess his crimes before standing for the presidency.
"Those who were responsible for atrocities should own up to what they have done," said Lord Tebbit.
"In order to seek the forgiveness of those whom they had damaged."
The peer was injured and his wife paralysed when the IRA bombed the Grand Hotel in Brighton during the Conservative Party conference in 1984
Mr McGuinness has secured the necessary support of independent members of the Irish parliament for his nomination.
They are Finian McGrath, Luke Flanagan, Michael Healy-Rae and Tom Fleming.
Fine Gael's Gay Mitchell, Special Olympics boss Mary Davis, businessman Sean Gallagher and Labour's Michael D Higgins of Labour, have already put their names forward for the October election.