Dutch tulips impounded by Romania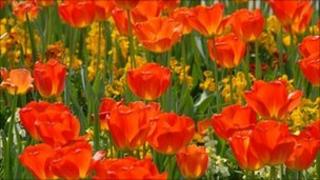 A Dutch MEP has accused Romania of blackmailing the Netherlands after more than a dozen truckloads of tulips were seized at the Romanian border.
Esther de Lange said Bucharest was practising some "old-school blackmail".
The seizure was the second since the weekend. Officials in Bucharest said the tulips could be contaminated with "dangerous bacteria".
But it follows a threat by the Netherlands to block Romania's entry into Europe's visa-free Schengen zone.
The Netherlands said that Romania - along with Bulgaria - had not done enough to fight corruption.
'No link'
On Monday, the Romanian authorities seized 15 trucks of Dutch bulbs and sent three of them back to the suppliers in the Netherlands.
The Netherlands is the main supplier of flowers to the Romanian market, exporting nine million bulbs last year.
The dispute is being called "the war of the flowers" in the Netherlands.
A spokesman for the Dutch economic affairs ministry said his government had asked for an explanation as to why the shipments were halted, and was waiting for a response.
However, the government has been careful not to criticise Romania. The spokesman said the Netherlands had no reason to suspect a link between the bulbs and the Schengen decision.