Irish presidential election: Labhrás Ó Murchú pulls out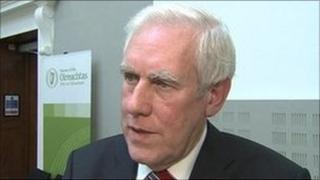 Irish senator Labhrás Ó Murchú has ruled himself out of the forthcoming Irish presidental election race.
Despite his Fianna Fáil party saying it would not be fielding a candidate, Mr Ó Murchú had suggested he would run as an independent candidate.
But after pledging that he would not seek Fianna Fáil backing, he said he would be unable to secure the 20 parliamentary nominations he needed.
The poll to become head of state takes place on 27 October.
The confirmed candidates are Michael D Higgins, Mary Davis, Martin McGuinness, Sean Gallagher and Gay Mitchell.