Italy's economy: Fears of becoming 'laughing stock'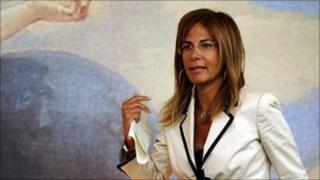 For Emma Marcegaglia, the head of Italy's leading industrial association, Confindustria, the downgrading of her country by America's leading ratings agency is the last straw.
"We are a serious country and we are fed up at becoming the laughing stock of the world," she said.
It was a pointedly unflattering reference to Italy's Premier, Silvio Berlusconi, whose international reputation has taken a beating in recent months not only because of his now notorious sex scandals, but also because of his dithering and lack of new ideas in responding to the biggest financial crisis his country has faced in decades.
Speaking to industrial leaders in Bologna, Ms Marcegaglia said Italy's exporters are embarrassed when they go abroad to sell their wares and are greeted with a smirk.
"We are serious people, and we don't want to be mocked for something that is not our fault," she added.
"It is not good for our national pride and it is certainly not good for our exports and our selling skills."
"This government must carry out serious and unpopular reforms, or resign! And I am not afraid to say this out loud," she concluded.
Fighting on
Mr Berlusconi said in as statement that S&P's decision to downgrade Italy was influenced by "political considerations" and seemed to reflect newspaper gossip more than the country's real economic state.
But the agency rejected that argument, replying with a warning that there is a one in three chance that Italy will face another downgrade within the coming 12 to 18 months unless it improves its rate of growth.
Silvio Berlusconi himself stubbornly refuses to throw in the towel after 17 years' dominance of the Italian political scene, both in and out of government.
He has designated his former Justice Minister Angelo Alfano, a Sicilian lawyer, as his party chief and possible successor, but makes it clear that he still intends to complete his parliamentary mandate - which does not expire until the spring of 2013 - however shrill the demands for his departure become.
Meanwhile, in Milan, the credit default swap rate for insurance against an eventual Italian sovereign debt default jumped to a record high of 520 base points in comparison with 489 on Monday.
The prime minister remains embroiled in a series of criminal trials on charges of corruption, bribery, fraud - and unlawful sex with a 17-year-old Moroccan nightclub dancer. He denies any wrongdoing and continues to claim that he is the innocent victim of left-wing judges and prosecutors, who have unfairly persecuted him because of his financial prowess and success.
However, the latest remarks of Emma Marcegaglia suggest that this argument is beginning to wear thin.
Italy continues to drift along economically with no serious plans for structural reform to stimulate growth, no prospect of the reform of an electoral law that is commonly referred to by a Latin tag meaning "fit only for pigs", and no clear line of succession when its billionaire leader - who celebrates his 75th birthday this month - finally does decide to retire.