French sex attack accuser to confront Strauss-Kahn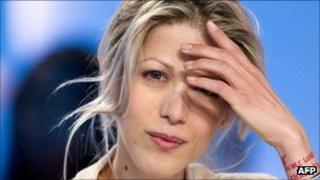 The former head of the IMF, Dominique Strauss-Kahn, is to appear face to face with a French writer who accuses him of trying to rape her in 2003.
He reportedly admits making "an advance" on Tristane Banon but denies violence and is suing for slander.
The two will face each other in front of prosecutors investigating the allegations made by Ms Banon in June.
At the time, Mr Strauss-Kahn faced charges of a raping a hotel maid in New York - that case was later dropped.
Confirming that a meeting would be held, the Paris prosecutor's office did not say when it would take place.
Both parties have been interviewed by police over the alleged incident.
'Like a rutting chimpanzee'
Ms Banon, 32, told a TV interviewer this week she was keen to confront her alleged abuser in front of police investigators to test each other's claims.
"The police unit asked me whether I was prepared to accept a confrontation," she said.
"Obviously, I said: 'Yes'. I want him in front of me so he can look into my eyes and say to my face that I imagined it."
She has alleged that Mr Strauss-Kahn, 30 years her senior and a friend and one-time lover of her mother, lured her to an unfurnished Paris flat on the pretext of offering her an interview for a book she was writing.
She described him wrestling with her "like a rutting chimpanzee", attempting to pull off her jeans and forcing her to kick and shout before escaping.
Ms Banon first made the allegations in a TV chat show in 2007, when Mr Strauss-Kahn's name was bleeped out.
Lawyers for Mr Strauss-Kahn, 62, confirmed on Friday that he "had let the service in charge of this case know that he was at its disposal".
The former International Monetary Fund director, who was once tipped as a future French president, recently returned to France.
He also still faces a civil suit by his alleged victim in New York, Nafissatou Diallo.