Ukraine's Yulia Tymoshenko denounces 'lynching' trial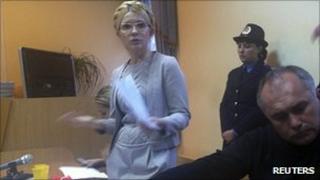 Former Ukrainian Prime Minister Yulia Tymoshenko has denounced her trial in Kiev for abuse of office as a "political lynching".
In an emotional closing statement, she criticised President Viktor Yanukovych and said the authorities had "falsified this entire affair."
Prosecutors have asked for Mrs Tymoshenko to be jailed for seven years over a 2009 gas deal with Russia.
Her trial has been adjourned until 11 October, when the verdict will be read.
Mrs Tymoshenko has been held in custody for contempt of court since 5 August.
The former Orange Revolution leader is accused of exceeding her authority while negotiating the agreement with Russia, which critics say was to Ukraine's disadvantage.
Current Prime Minister Mykola Azarov said this week that Russia had finally agreed to review the 2009 contract but Russian gas monopoly Gazprom said talks were still continuing.
Foreign concern
"This trial is a classic case of political lynching," said Mrs Tymoshenko in a fiery four-hour speech.
"No document has ever proved any guilt. They [the authorities] have falsified this entire affair".
She added: "The president of Ukraine considers me a dangerous political opponent - and rightly so. I will devote my life to making sure that Ukraine becomes free."
Referring to the gas deal with Russia, Mrs Tymoshenko said: "I acted legally, effectively, in a correct manner of state. If the circumstances were the same today, I would act in the same way."
Mrs Tymoshenko, 50, said she was addressing the Ukrainian people, not the court, and witnesses said she almost turned her back on the judge.
Both the US and EU have voiced concern over the legitimacy of the trial.
They have reportedly put pressure on Ukraine to release her and let her compete in elections next year.
Mrs Tymoshenko's trial appearances have been characterised by crowds of supporters on the streets outside the Kiev court.
She insists she is the victim of a vendetta by President Yanukovych, who defeated her at the 2010 presidential election.
Some commentators say the trial is a public relations disaster for Mr Yanukovych, drawing criticism from the West and resurrecting Mrs Tymoshenko as a political force.
The court is due to reconvene on Friday.