Pair in court after drugs seized at Belfast airport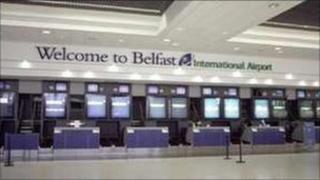 Two Portugese nationals arrested after a seizure of suspected Class A drugs at Belfast International Airport have appeared in court on Monday.
Salimato Djalo, 30, and Manuel Gomez Da Silva, 41, both from Guinea Bissau, appeared at Coleraine Magistrates' Court.
Both are charged with the attempted importation of suspected controlled drugs.
They were arrested on separate days last week after arriving from Portugal.
Ms Djalo was arrested on Thursday, and Mr Da Silva on Saturday.
It is not yet known how much the drugs were worth. They have been sent for forensic examination and inquiries are continuing.
John Spence, acting assistant director at the UK Border Agency, said there are checks in place to detect drug smuggling.
"We have robust controls in place at all points of entry along our borders," he said.
"We use the latest technology, detector dogs and intelligence, as well as the expertise of our staff in our efforts to stop the importation of illegal drugs."
The two were remanded in custody and are due to appear at Antrim Magistrates' Court on 25 October.