£330k worth of drugs seized after cars tracked from Scotland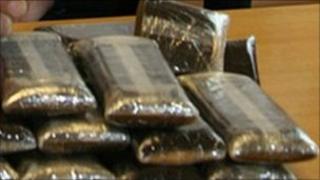 Police seized nearly £300,000 worth of cannabis resin in County Down after two cars were tracked from Scotland, the High Court heard on Monday.
Fifty-eight kilos of the drugs were found hidden in the doors of the Citroen and Saxo vehicles.
Both crossed from Troon to Larne with two men and two women last month.
Telephone examinations revealed that a fifth suspect had made more than 80 calls in a short time to one of those arrested, according to the prosecution.
The details were disclosed as bail was refused to one man. The cars containing the drugs were driven to his house.
David Smith, 26, of Dickson Park, Ballygowan, is charged with conspiracy and possession with intent to supply a Class B drug.
Fiona O'Kane, prosecuting, said Scottish drug enforcement officers monitored the cars boarding the ferry on 5 September.
The court heard the vehicles were then followed from the port in Larne to Mr Smith's home, where two of the co-accused were discovered crouching behind an upstairs bed.
A cannabis shipment with a street value of £290,000 was found in the car door panels.
Mrs O'Kane said police believe another person was involved in the drugs plot based on telephone evidence.
She claimed 81 calls were made between him and Mr Smith in the lead up to the arrests.
Conor O'Kane, defending, argued that his client was the only one of the suspects still in custody and deserved equal treatment.
He said that even the man described as the "mastermind" of the alleged operation had been granted bail.
Mr O'Kane added that this co-accused is believed to be linked to loyalist paramilitaries.
But Lord Justice Coghlin refused bail due to risk of further offences.
"Large-scale commercial selling of drugs have an inevitably corrupting and damaging effect on those who are stupid enough to buy them," he said.
"It is a major source of misfortune in this society."