INLA 'Border Fox' Dessie O'Hare knocked down in Dublin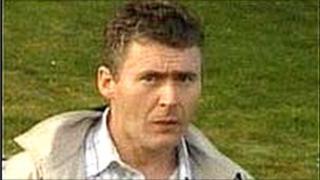 Irish police are investigating a claim from convicted kidnapper Dessie O'Hare that he was the victim of a hit-and-run incident in Dublin on Tuesday night.
O'Hare, 55, is being treated in hospital for face and shoulder injuries not thought to be life-threatening.
The former INLA man, who is originally from south Armagh, was picked up by an ambulance in Clontarf and claimed he was knocked down by a black jeep.
It is understood gardai have yet to formally interview him.
O'Hare, who was known as the "Border Fox" was sentenced to 40 years for kidnapping the Dublin dentist John O'Grady in 1987 and cutting off parts of his fingers when a ransom was not paid.
Irish police managed to free Mr O'Grady, but O'Hare escaped before eventually being recaptured after being injured in a shoot-out in County Kilkenny.
He was freed in 2006 after the High Court ruled he was a prisoner who qualified for release under the terms of he Good Friday Agreement.