Fracking for gas prompts Irish government study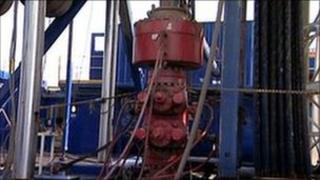 The Irish government has commissioned a study into a controversial method of extracting natural gas, known as 'fracking'.
It follows concerns raised about the possible impact of the method on the Lough Allen Basin, close to the border with Northern Ireland.
'Fracking', or hydraulic fracturing of rock, is used to investigate sources of gas underground.
Environmental activists claim it risks contaminating water supplies.
In the process, rock is fractured apart by a high pressure mixture of water, sand or chemicals which allows the gas to flow.
Much of the water used in the process is collected, but there are concerns that potentially carcinogenic chemicals can sometimes escape and find their way into drinking water sources.
'Little experience'
Ireland's Minister for Communications, Energy and Natural Resources Pat Rabbitte has asked the Environmental Protection Agency to conduct a study related to the activity.
"At present there is currently very little European experience of the process," he said.
"What is clear is that there is no immediate cause for concern. It is worth noting that the department has not received applications for, nor licensed the use of, hydraulic fracturing in the Irish onshore at this time."
The decision was welcomed by Fianna Fail's spokesperson on communications, energy and natural resources, Eamon O Cuiv.
"The Lough Allen Basin is one Ireland's most ecologically sensitive areas, with some of the most beautiful lakes and waterways in the country," he said.
"I am not convinced that it is possible to extract the shale gas in this area without significant risk to the environment and to the public."
The Lough Allen basin area covers parts of Leitrim, Sligo, Cavan and Roscommon.