Sarkozy warns Russia over Georgia 'threats' during tour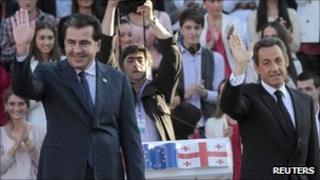 French President Nicolas Sarkozy has told thousands of Georgians in the capital, Tbilisi, that Russia should stop making "threats" against its neighbour.
Mr Sarkozy said Russia was considered a friend, but attempts to intimidate Georgia were "unacceptable".
He said Russia should abide by the terms of a ceasefire agreed in 2008, which the French leader helped broker.
It is Mr Sarkozy's first visit to Georgia in three years.
Speaking in Tbilisi's Freedom Square, Mr Sarkozy said France was committed to "the sovereignty, independence and territorial integrity" of Georgia.
"France sees Russia as its friend, as a strategic partner. But to restore confidence, threats, intimidation, threats and attempts to destabilise (the situation) are fully unacceptable," Mr Sarkozy said.
He said Georgia should be able to express its aspirations to join the EU and Nato despite Russian opposition.
Georgia accuses Russia of violating the 2008 peace deal by not pulling its troops back to pre-war positions and "occupying" the breakaway provinces of Abkhazia and South Ossetia.
Russia recognised the independence of Abkhazia and South Ossetia in 2008.
It has had a peacekeeping force in the territories since the 1990s.
Mr Sarkozy also held talks with his Georgian counterpart Mikheil Saakashvili.
Georgia is the last leg of Mr Sarkozy's Caucasus tour, after visits to Azerbaijan and Armenia.