Albania's last communist leader Ramiz Alia dies at 85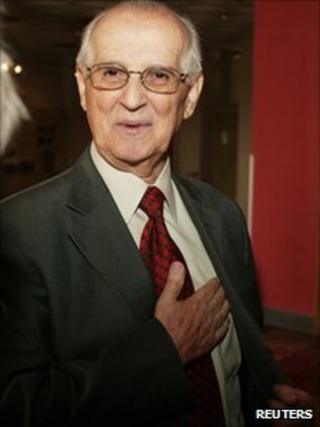 Albania's last communist President Ramiz Alia - who was credited with opening up one of the world's most isolated political systems to democracy - has died.
He was 85, and doctors said he died of lung problems.
He succeeded Enver Hoxha, who ruled Albania with an iron fist.
But Mr Alia did not build up the same cult of personality as Enver Hoxha, correspondents say.
After the death of Mr Hoxha, his longtime ally, Mr Alia reluctantly became the last eastern European leader to begin democratic reforms.
Following a series of massive student protests, he introduced political and economic changes that paved the way for the country's first free elections in 1991.
He was elected president, but resigned a year later after the collapse of his coalition government.
The opposition Democratic Party won a landslide victory in the elections that followed, and Sali Berisha became the country's new leader.
'Black sheep of Europe'
Mr Alia was convicted of abuse of power in 1994 but was later released on appeal.
In 1996 he was put on trial again for human rights violations and was given a three-year jail term for his role in mass deportations of opponents of the communist government.
He was also convicted of responsibility for the killing of nearly 60 Albanians by border guards as they tried to flee the country between 1986 and 1991.
But he escaped the following year during a big armed rebellion in the country and fled to Sweden.
He was later allowed to return to Albania.
In his autobiography "My Life", Mr Alia said he felt the Communist Party should apologise to Albanians for failing to develop the economy enough to give them a better life.
"I am convinced our country will not remain forever the black sheep of Europe," he wrote.
He is survived by two daughters and a son.