Euromillions prize of £101m claimed by UK ticketholder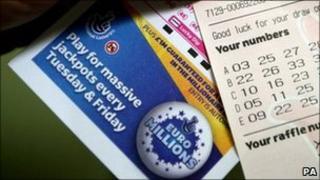 A UK ticketholder has come forward to claim £101m (117m euros) on Euromillions - the third largest lottery jackpot in UK history.
It is not known if a single person, couple or syndicate won the prize.
It is the second major Euromillions win in the UK this year - in July, Colin and Chris Weir from Ayrshire won a record European lottery prize of £161m.
Friday's winning numbers were 18, 26, 34, 38 and 42 and the Lucky Star numbers were 5 and 8.
The claim of holding the winning ticket remains subject to ticket validation.
UK ticketholders have banked the Euromillions jackpot more than 15 times in the last two years.
Last year two anonymous UK winners scooped £113m and £84m.
A National Lottery spokeswoman said of the latest win: "This is amazing news, we are absolutely delighted.
"This is the third biggest winner this country has ever seen... we've got the champagne on ice and look forward to welcoming the ticketholder into the National Lottery millionaires' club."
Nine countries participate in Euromillions - the UK, the Republic of Ireland, Spain, Portugal, France, Belgium, Luxembourg, Switzerland and Austria.
Ticket sales in all those countries contribute to the Euromillions jackpot.