One True Cross: Holycross Abbey relic stolen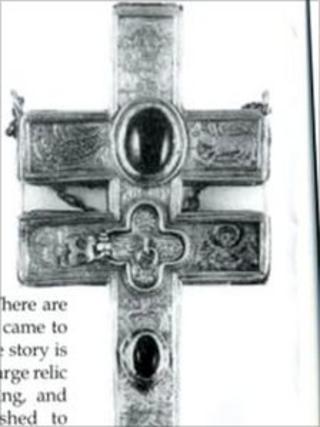 A relic said to be from the cross on which Christ was crucified has been stolen from an abbey in County Tipperary.
Thieves cut through a steel cabinet and stole two religious artefacts including the relic from Holycross Abbey.
Father Tom Breen said the relic was presented to monks in the 12th Century and attracted pilgrims from all over the world.
He said people were devastated by Tuesday's theft.
The cross containing the relic was around 12 inches (30 cm) tall, hanging from a chain and contained two crosses and two dark stones.
Fr Breen said it had been an object of veneration at the abbey for more than 900 years.
Precious
"The relic was a relic of the One True Cross and people over the centuries got great consolation from being in the presence of the relic and praying to the Lord," he said.
"It has no great commercial value. I'm baffled because it's not encased in precious metal, they may have been under the impression it was but it's really of very small commercial value."
The second item stolen was also a cross around 12 inches (30 cm) tall, standing on its own base and made from gold and bronze.
It came to the abbey from Rome in 1977.
Two thieves, wearing balaclavas and armed with an angle grinder, stole the artefacts at around 17:00 BST.
Irish police said they were seen getting into a wine or red VW Touareg vehicle where another person was waiting for them.
The jeep was later discovered burnt out and a dark coloured saloon car was seen in the vicinity travelling at high speed.