Ratko Mladic to face single trial on war crimes charges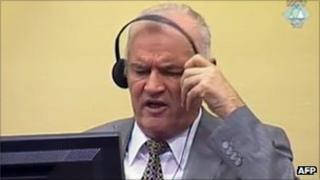 Judges at the war crimes trial of the former Bosnian Serb commander Ratko Mladic have rejected the prosecution's request to split the indictment and organise two separate trials.
Gen Mladic is charged with genocide at Srebrenica in 1995 and war crimes elsewhere in Bosnia in the 1990s.
Prosecutors argued that splitting the indictment would increase the chances of at least one verdict.
But judges said it could overburden Gen Mladic, who is in poor health.
And they said it could make the trial less efficient.
Pneumonia
Gen Mladic, 69, was arrested in May and is awaiting trial in The Hague at the International Criminal Tribunal for the former Yugoslavia (ICTY).
He is accused over the massacre of about 7,500 people at Srebrenica - Europe's worst atrocity since World War II - as well as the 44-month siege of the Bosnian capital Sarajevo, in which 10,000 people died.
Earlier this week, Gen Mladic was treated in hospital after his lawyer said he was suffering from pneumonia.
He told the court last week he had suffered from a kidney stone, and his family say he had two strokes during his years on the run from the Hague tribunal.
In 2006, former Yugoslav President Slobodan Milosevic died during the fourth year of his war crimes trial before a verdict could be reached.
After the Bosnian war, Milosevic protected Gen Mladic, who lived openly in Belgrade, attending football matches and going to restaurants.
But after Milosevic was arrested in 2001, Gen Mladic disappeared from view.
He was detained by Serbian intelligence officers in May, who found him living in a village north of the Serbian capital Belgrade.
A career soldier and a fervent nationalist, Gen Mladic inspired passionate devotion among his soldiers.