Ireland to scrap judges' wigs to save money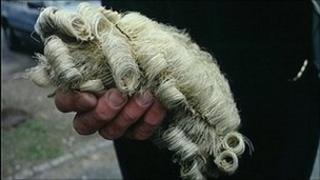 Judges in the Irish Republic are to sit in court without wigs in an effort to save money.
The Irish Times has reported that the practice of wearing wigs has been in place in Ireland since the 17th century but will be discontinued after the justice minister signed a new law on Thursday night.
The horsehair headpieces are specially made in London and cost 2,200 euros each.
The minister, Alan Shatter, has also proposed ending any requirement by barristers to wear wigs and gowns.
Following Irish independence in 1921, the new state retained many of the features and traditions of the British legal system.
The Irish Republic has been implementing huge cuts across the public sector in an effort to comply with the requirements of an EU/IMF financial bailout.