Ryanair prices to Estonia jump following play-off draw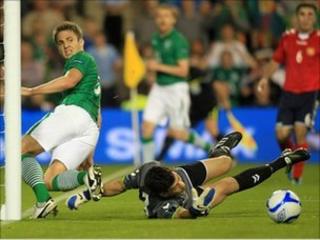 The price of a Ryanair flight from Dublin to Estonia jumped by 10 times following the Euro 2012 play-off draw.
Last week the airline was charging 25 euros (£22) for a one-way ticket to the capital of Tallinn on November 10 - the day before the Republic of Ireland match against Estonia.
However, that soared to almost 247 euros (£215) following the draw on Thursday.
Ryanair said the prices increased as availability declined.
The cost of a return flight to Dublin on 12 November also rose from 32 euros (£28) last week, to between 99 and 207 euros (£86-180), plus taxes, on Friday.
Fine Gael's John O'Mahony accused the airline of exploiting soccer fans.
"Not for the first time, Ryanair is penalising Irish soccer supporters by increasing the cost of flights, in this case to Estonia for next month's European Championships," he told the Irish Independent.
"I understand that Ryanair is a commercial enterprise, but it seems desperately unfair."
The carrier denied that it had increased prices in a bid to cash in on the hundreds of football fans travelling to Tallinn for the play-off clash.
Daniel de Carvalho of Ryanair said seats on its scheduled flight on 10 November were simply "snapped up" in the 30 minutes following the draw.
This left five remaining seats priced at 205 euros plus taxes, he said.
"We have now added not just one, but two extra outbound flights on the Friday, at prices from just 99 euros one way plus taxes.
"If there is sufficient demand from Irish soccer fans, then we will add a third outbound flight on the Friday in due course," added Mr de Carvalho.