Turkey university begins country's first Kurdish course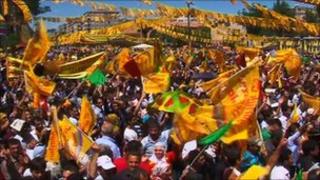 A Turkish university has begun teaching the country's first ever degree course in the Kurdish language.
About 20 students have signed up to study Kurdish at Artuklu University in south-eastern city of Mardin.
The government in Ankara started easing restrictions on the use of Kurdish in 2009 as part of its efforts to join the European Union.
Kurds make up around a fifth of Turkey's population and have for years been pressing for greater rights.
The new undergraduate course will last four years and will cover both Kurdish language and literature.
The head of the new programme at Artuklu University, Professor Kadri Yildirim, told the Hurriyet newspaper: "This city is the centre of upper Mesopotamia and Kurdish culture is a major part of this.
"As other universities start opening Kurdish language classes and once Kurdish is used in the primary education system, this department will become more popular."
Turkey's governing Justice and Development Party announced a series of initiatives to improve the rights of Kurds three years ago, but has since been criticised for dragging its feet.
Violence by Kurdish separatists has continued and Turkish nationalists have objected to attempts to reach out to the Kurds.
Tens of thousands of lives have been lost during three decades of fighting between Kurdish rebels and the security forces.