Italy PM Silvio Berlusconi cleared in fraud case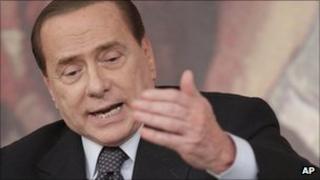 A Milan judge has cleared Italian Prime Minister Silvio Berlusconi in a fraud and embezzlement case relating to his Mediaset television empire.
But Mr Berlusconi's son Pier Silvio Berlusconi, the company chairman Fedele Confalonieri and nine other defendants were ordered to stand trial.
Silvio Berlusconi is still facing three trials, over corruption, tax fraud and claims of sex with an underage girl.
He is also at the centre of a string of other sex scandals.
Mr Berlusconi denies all charges and claims he is being hounded by Milan prosecutors waging a politically motivated campaign.
This case centred on claims that subsidiary Mediatrade acquired US television rights at inflated prices and the defendants pocketed the difference.
But at Tuesday's preliminary hearings, Judge Maria Vicidomini ruled there was insufficient evidence to indict Mr Berlusconi.
"We had always said that there was no wrongdoing and that Berlusconi had nothing to do with this," the premier's lawyer, Niccolo Ghedini, said according to AP news agency.
"It's a fairly rare decision... but nonetheless we still think Berlusconi is being hounded by the Milan judges."
The trial of the remaining defendants in the case will begin on 22 December.
Prosecutors will appeal against the decision to clear the prime minister, judicial sources said according to Reuters news agency.