Roadside bomb blast kills eight in Turkey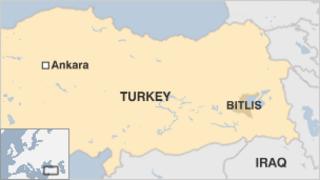 An explosion in south-eastern Turkey has killed five police officers and three civilians, including a young girl, local officials say.
Reports in Turkey's media say a roadside bomb targeting a police vehicle was detonated remotely in the village of Guroymak, Bitlis province.
The civilians who died were travelling in a lorry behind the police car.
No-one has claimed responsibility for the attack, but the officials suspect Kurdish separatists were behind it.
The area - where ethnic Kurds make up a majority - has recently seen a spike in attacks by members of the Kurdistan Workers' Party (PKK) - a group which is seeking greater autonomy in Turkey.
Turkey has responded with a police crackdown on suspected rebel sympathisers and air strikes on Kurdish sites in northern Iraq.