Serbs refuse to remove barricades in northern Kosovo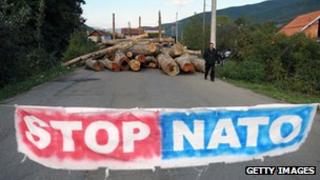 Serbian politicians in northern Kosovo have rejected a demand by Nato peacekeepers to remove barricades.
Roads in the area have been blocked for more than a month.
They said they were willing to allow supplies for Nato forces to pass through.
But they have insisted that the roadblocks would remain until ethnic Albanian staff were withdrawn from two border crossings used to travel to Serbia.
Nato had warned it would dismantle the barricades if the minority Serbs had not removed them by Tuesday.
But hundreds of extra Nato troops sent to the area have still not moved to take them down, in an apparent bid to give the Serbs more time.
However, local Serbs have now asked Belgrade to send police and troops to the area.
"Serbia and the UN Security Council should facilitate the return of parts of the (Serbian) army and police, and their deployment in Kosovo's north," said a declaration issued after a meeting of local Serb leaders.
The barriers were erected in July when the mainly ethnic Albanian government sought to take control of crossing points at Jarinje and Brnjak to enforce a trade blockade against Serbia.
The ban was imposed in response to Belgrade's effective bar on imports from Kosovo since its declaration of independence from Serbia in 2008.
But local Serbs feared the move to put Kosovo Albanian customs and police officials on the border, would severely limit their access to Serbia.
About 40,000 Serbs live in northern Kosovo, making up the majority in a number of towns. They refuse to recognise the authority of the predominantly ethnic Albanian government in Pristina.
The unilateral declaration has been recognised by more than 80 countries, despite strong opposition from Belgrade.